Chatib Review – Is it best or Safe ?
Chatib is an online chat platform that boasts off a unique and casual approach. Instead of creating user-profiles and fiddling with complex matching algorithms, Chatib allows its users to join an array of open chat rooms.
In this manner, they enable users to engage in conversations with multiple users at once. To be precise, while using Chatib, you don't have to register. You have to provide some basic info like your name and age, and you are ready to start using the site.
Another highlighting trait about Chatib is that it allows users to enter vivid chat rooms depending on their interests. Interestingly, Chatib also comprises of simple online games like master checkers and tic-tac-toe.
About Chatib 
Chatib has a low entry threshold and encourages sociability right from the time the users enter the site. If you want to make your chatting experience more enjoyable with others, Chatib is the best bet for you.
It is not only a free online dating platform but also comprises various chat rooms that you can join. Some of its popular chat rooms are the General chat room, singles chat room, etc.
Moreover, Chatib will never limit you to join chat rooms. You are also free to create your own chat rooms and manage them accordingly.
Related Blog: Top 7 Dirty Chat Rooms & Apps
Notably, if you want to make things cozy and like to have a private chat, you are also capable to send private messages to other individuals. You can also send them photos via chat rooms.
So, let's summarize in brief about the salient features of chatting in this platform. 
Send private messages.
Chat on various chat rooms.
Manage your chat rooms.
Design your own chat room.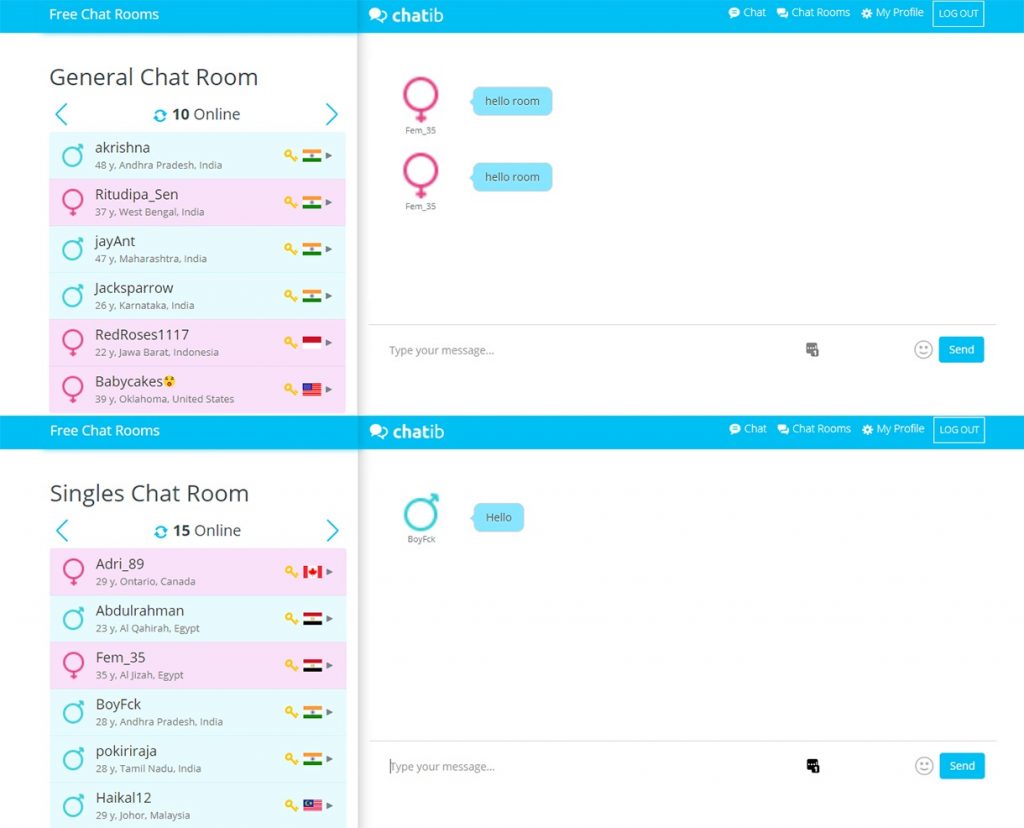 What should be your eligibility to access Chatib?
To be frank, you should be at least 18 years of age while using Chatib. In case you are below 18 years of age, you would not be eligible to access Chatib. Always note that those who access Chatib are usually single men and women.
These single men and women usually chat and meet in a particular place as per their convenience. Users from across the world can access Chatib and register on various chat rooms.
However, as a Chatib user, you shouldn't show disrespect towards others. In case you are caught using abusive language while chatting with others, your account would be suspended. In the future, you cannot access the Chatib site. Remember that Chatib is a virtual place that is quite popular among singles for hookups and dating.   
It's absolutely free to use 
From registration to messaging, everything is free on this revolutionary dating platform. It is interesting here to note that there are no credits to buy or subscription costs to take care of. In other words, Chatib exudes practicality to those who are not willing to afford the hefty subscription fees like other online dating sites.
Thus, whether you are accessing chat rooms or engaging in private messages, there are no extra costs to worry about.
Membership Structure
The chat rooms of Chatib are especially for singles between the ages of 18 and 50. To be precise, Chatib comprises of 2000 active users at any given time. The most popular age group which loves to access chat rooms is the people in 18 to 30 years. On the other hand, it is absolutely wrong to term Chatib as a dedicated dating platform.
You can find members hanging out in the chat rooms and discussing everything from technology to politics. Notably, as Chatib is completely free to use, it attracts people daily. Hence, you would always find someone new to connect with.
How to register on the Chatib platform?
The registration process on Chatib is quite simple. Follow the below-mentioned steps and you are ready to use its chat rooms.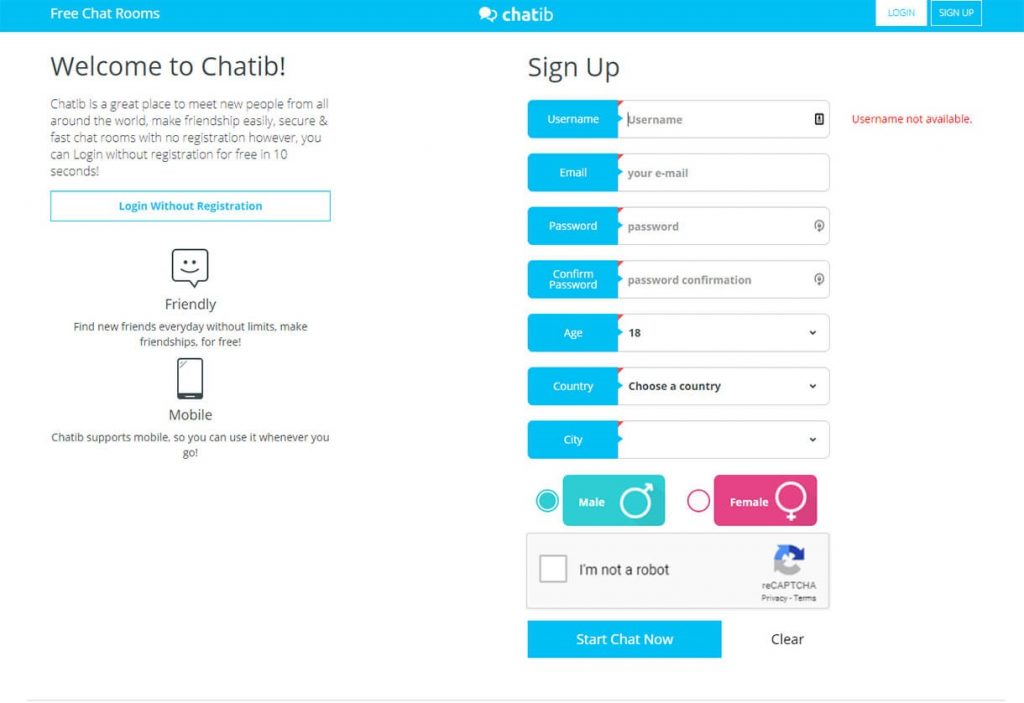 Visit the website and click on the register.
Type in your basic information like age, location, and gender.
On the third page, you would be required to enter your username and password.
Provide an email address so that you can continue getting updates even when you are logged out.
The pros and cons of accessing Chatib
Pros:
The Chatib platform is free to use completely.
One would find an array of platforms matching anyone's interests.
You can log in without registration.
Cons:
Chatib doesn't comprise of extraordinary features.
The verification box seems to pop out at regular intervals which is quite annoying.
If there is a period of inactivity from your end, the platform would automatically log you out.
So, if you are someone who wants to meet an individual, Chatib is an ideal platform to use. The public chat rooms are free to use and you can always find someone to chat.