Passion.com Review – Best & Cheapest Dating Site

Passion.com is an online hookup and adult dating site that came into existence in the year 1996. So, that makes the site at least two decades old in terms of its existence. In fact, this website has been there ever since online dating started becoming a thing! Millions of users and countless functionality make this site one of the most popular choices for everyone looking to have a bit of fun exploring their sexual fantasies and interests.
Pros & Cons of Passion.com
Pros
A huge membership base of over sixty-seven million users.
Instant messaging and chat rooms allow for even free basic membership.
All kinds of relationships for you to choose from
Live chat and phone support are offered to the members 24/7.
Members get to verify the accuracy of the profiles through the Confirm ID feature
Cons
Quite a number of fake profiles trying to lure you to other dating sites.
Not as many women present as there are men, just as any other dating website.
The absence of a proper app, and even a good user-friendly mobile version of the site.
Signup & Login Process
The process for signing up is rather simple and it will take you not more than a couple of minutes to complete it. Firstly, you will have to check on the boxes that ask you if you are a woman, a man, a transgender, or a couple (lesbian, gay, straight).
You will, similarly, get many options to choose as per your dating preferences. You can choose one option, more than one option, and even all the options if that's what you like. This site is a big advocate for inclusion and showing respect to all kinds of preferences.
Next up, you will have to put in your location and birth date. These are crucial information because the site will help you find the members that are located the closest to you.
And, the age is asked just to confirm that you are an adult. Additionally, you will also need to have your username, email ID, and password mentioned therein.
There is a couple of information that the site asks for but you have the option of ignoring, such as marital status, race, body type, and the likes.
However, it is a good idea to include a bit of information about yourself, and even a fancy bio, because that will get more members interested in your profile. The final step is to click on the confirmation email sent to your ID and log in to your profile.
Members Structure of Passion.com
Just like all other dating and hookup sites, Passion also has more men than women. Most of the members at this website are within the twenty-five to thirty-five age bracket.
The most frequent visitors to the site come from the United Kingdom, the United States, France, Canada, and Thailand.
There are more than sixty-seven million users on this dating website, and they are almost all highly responsive and active members.
What is really amazing about this site is that it is highly diverse in terms of its members and their preferences. There's something for everyone out here!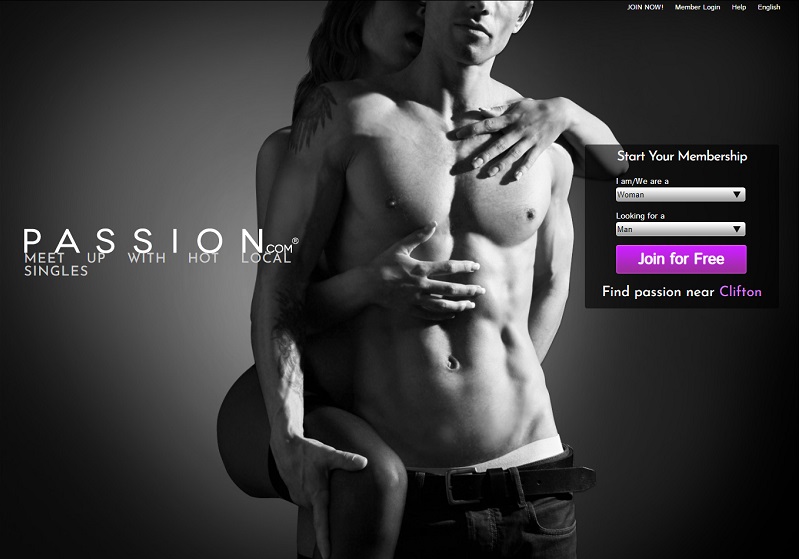 Member Information of Passion.com
The important information about the members will be displayed on their profile for you to check out and see if that profile suits your preferences.
The amount of information you get to see on the profile of a member depends on whether you have a free or paid membership.
But, it's not just about the information offered on the profiles of the members. You get to read the interesting blogs written by the members, and you can add your comments on those articles.
The site relies heavily on the content offered by the members.
Contacting Members
Passion.com comes with the aim of keeping things interactive and fun, instead of just raunchy and crude. So, it tries to bring in a community feeling and make the members feel sexually empowered.
You get to write and have your own blogs to express your stories and ideas. It aims to ensure that the members perceive you as something more than a sex object.
You can read others' blogs and you can also comment on those, as the members read and comment on your write-ups.
Most of the blogs are sexual and expect to see a lot of nude photos in these blogs. But, it's still worth reading just to gain perspective, and even earn some bonus points by commenting that will come in handy for you later.
Even the basic accounts get to have the live webcam feature. You get to see the live videos of the other members. Most of the content that you see in these live videos cater to particular fetishes or kinks, such as a foot fetish.
In fact, Passion.com is pretty big on letting the members explore their kinks! You can send a wink to the members, which is like sending a flirty interest to the other person.
There is a feature called the kink search, which is all about exploring your kinks without inhibitions. You get to browse members very specifically here, according to your preferred kinks. It's a great way of customizing your experience on the site.
Mobile App of Passion.com
What is unfortunate is that, in spite of such a huge user base, the site does not have any mobile app for the members.
You can either access the desktop or the mobile version of the website. Now, there is a problem in that, as well. The mobile version of Passion.com looks really messy because all the features are cramped up in the webpages.
The desktop version is easier to use and looks more clean and accessible. For a website that is catering to hookups and casual flings, not having an app or even a mobile-friendly website is a huge drawback.
Costs and Prices
Now, if you are looking to get a paid membership, there are three options for you: one month, three months, or an annual membership.
As with every other dating website, the cheapest is the annual membership while the monthly membership costs you the highest.
It will set you back by $39.95 if you are looking for a monthly membership, and this is the most expensive option out of all the three.
You will have to pay $26.95 for getting the three months membership. In this case, you get the fourth month free, so that's a win-win! Finally, the cheapest is the annual membership for which you will have to pay less than $9 every month, so the total for twelve months comes at $19.95.

Free Services
Passion.com provides a free membership that comes with the basic search option that helps you find the members that you want to chat with.
Though the site uses the term "basic search," there are loads of options available under this. The features you get under free membership are:
You can create a profile with videos and photos.
Basic search with username and standard form.
See the profile summaries under the search option.
Like the videos and photos of other members.
Instant messaging and live chat.
Watch one live webcam update at a time.
Keep two hundred members in the hotlist.
Join groups and blogs.
Tech support offered over email.
Fee-based Services
Gold Membership or the paid subscription has a couple of more features than the free membership and it is also cheaper, so naturally it is the most popular among the users. The features you get under GoldMembership are:
Everything that comes under free membership.
Advanced searches.
Options to view complete profiles of the members.
Read and reply to the messages of other members.
Watch unlimited live webcam update at a time.
View complete videos and photos.
Comment on the videos and photos.
Send out friend requests and flirts.
Keep a thousand members in the hotlist.
Customer support offered over telephone.
Payment Options
You will get a couple of payment options here. You can pay using a credit card or check. However, if you are unable to pay using your credit card, you can avail any of the following options.
Send a money order to the company's address: Various, Inc. Attn: Billing Dept.910 E. Hamilton Ave., Sixth Floor, Campbell, CA 95008. The money order must be paid to Various, Inc. in US dollars. Keep a receipt of the payment for future references.
Mail or fax your credit card info. You will have to fill out the credit card page, print it out, and send it to the company by fax or mail it to the address mentioned above.
The owner of the card needs to sign at the bottom of the page to grant the authorization for using the card. It will take 72 hours for the company to process the payment and activate your premium membership.
Security & Safety
The problem is that the site has a number of fake memberships that try to take you to other sites. So, security is still a big concern.
The website tries to be strict about security and any member who harasses or abuses others will be banned permanently from the website.
You would still need to be careful about sharing your personal information with the other members in here.
Customer Support
You can get in touch with their customer care representative at (888) 575-8383 or (408) 745-5400. You can also send it mails at the above-mentioned address. The fax number of the company is (408) 745-5675.
https://www.youtube.com/watch?v=glLXgk_8md0