Bondage.com Review – BDSM, Bondage, Kink & Fetish Community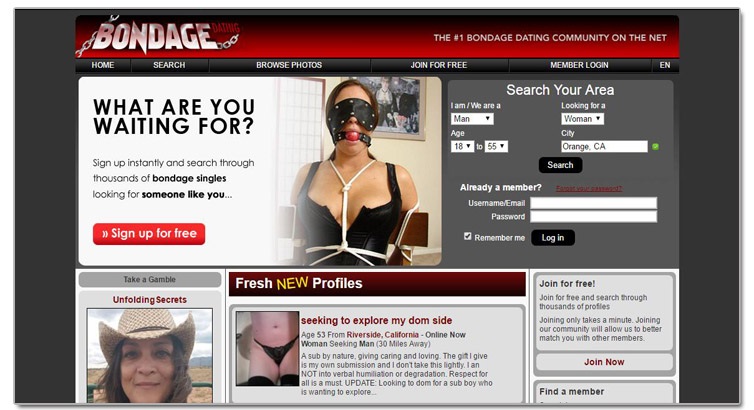 Bondage is clearly a community of people interested in BDSM and fetishes, operated by FriendFinder that includes a wide variety of features like games, forums, chat, and email. The site is not new, but compared to other hookup sites, its popularity is drained.
Member Structure
Most of the users that join Bondage.com are men who live in the USA interested in NSA hookups, casual sex, and bondage. This means you will only find people looking to have sex tonight. So, if you're looking to go steady, forget it, this site is not right for you. On Bondage.com, you will find women and fuck boys seeking no-strings-attached relationships and local hookups. This site would not be suitable for long-distance relationships.
Men and women are equal in numbers.
Good for fuckboys and cam girls.
More than 1,000.000 members but only 36,000 are active.
Signing Up
Registering to Bondage.com is fast and simple because it only requires a minimal amount of info. You will be done in 5-10 minutes. The first thing you have to do is to identify with a gender and choose the genders or identities of your preference. Next, the site asks you to enter a valid email and type your password.
You also must input the username that bests suits you. Try to choose a username that may sound interesting to BDSM lovers. After that, word your bio in a short descriptive paragraph so the visitors will know you more. Finally, choose your location and date of birth.
Registration is free and can be done in 10 minutes after answering the questions.
It is important to specify the gender(s) of people you're hoping to meet.
Better pick a username that suits this fetish site.
Making Contact
This website shares a lot of similarities with other traditional sex sites. Bondage features video and voice chat, so you can get on cam with hotties in a private chat (Premium membership). If you like somebody, the platform allows you to send up to two messages to them (with a silver membership, read below). If you're specifically looking for somebody, use the Bondage.com search and scroll through members. Once you do this, it is much easier to strike a conversation with the people you like.
Other things you can /can't do there include:
As a free member, you're not allowed to reply to messages in your inbox, but there are over 500 groups to interact with.
You can create your own BDSM blog to let others know about your interests.
As a free member, you can send winks, but this function is not limitless.
Profile Quality
Although Bondage is a hook-up site, it's not sleazy. You're given a form to input your desires, interests, and information you think others will read. The more information you enter, the more matches you'll probably have. There are questions you can opt not to answer, but this is not recommendable. Also, don't forget to add the best pictures. Upload several photos of yourself; you wouldn't want to find profiles with a single picture.
This is the best way to get likes and matches on a sex finder like this.
The site encourages you to add as many pictures as you want.
Be aware that all the photos you upload here can be shared by others on other sites.
78,000 pics of kinky males and females are uploaded weekly.
Mobile App
Bondage doesn't have a downloadable app but works well on mobile browsers. Pick and install the best browser as per your preference; you will equally see the same features that appear on the desktop site. While Bondage is not as convenient as to have an app, it allows navigating through the homepage without an issue.
There's no app for smaller devices.
It is easy to browse through mobile browsers.
The mobile interface displays the homepage with the option to register and join groups.
Real Life Review
Honestly, the site is still growing in popularity, and there are not too many reviews on the Internet. For many, the site is a scam due to the great number of profiles with pictures of webcam models. Five minutes after you register, you receive a message from one of these models. It is evident that the site is trying to gain popularity and earn respect in the industry, but it is still new.
The following are two reviews we find on the Internet:
"Surely everyone in the world has heard of Bondage.com, and if they haven't they are missing out on one of the most active bondage/dom communities on the Internet.
When I first found Bondage.com, I joined for free just to see what all the hype was about. I quickly found out that the only way to go was to become a fully paid member.
Free members can browse the profiles and several other things that most sites don't allow you to do for free, but there are also several things that you can do as a paid member that are pretty cool." – Mr. Kink (read more)
"Chris_1491November 3rd, 2009
Below average
Sorry I was a paying member some years ago and just got back to the US, the site is dead compared to what it was. I would guess eight of ten members haven't been on in years, and the forums are dead compared to what they were. Sad really, I met some good people and even got hooked up a few times from the place some years ago."
Bondage.com Plans & Price
Bondage provides six packages or plans for all its members: the silver plan and the golden membership.
The silver membership is partitioned into four micro plans. The first one is the 1-month Silver, which costs $16.13 a month. The second one is the 3-month silver membership, which costs $12.90, and the other two are plans for 6 and 12 months priced at $8.96 each month correspondingly.
The golden membership features two plans. The first one covers three months at $16.10 to pay each month, and the second option includes 12 months at $8.96 every 30 days. As you can see, there's no difference in price between the 12-month Silver and the golden plan. Perhaps, you can upload more photos than those that are Silver.
Two plans mostly.
With a premium account, no matter which, you can make use of the Bondage instant messaging.
You can personalize your searches.