OkCupid Reviews – Reviews Of OkCupid Dating Site
About OkCupid 
Who doesn't know OkCupid? OkCupid is a platform used for finding friends but mainly for finding people interested in serious relationships. If you're not ready for this kind of arrangement, this site is not for you.
OkCupid is completely free, but it certainly has other features that are not free of cost. You can register for free and swipe for free, but certain features naturally require upgrading to Premium.
OkCupid has many competitors, some of which are Hinge, and Tinder and Plenty of Fish, yet in this OkCupid dating, you'll see some of the features that make it unique.
So, why do people use OkCupid? This is a website full of millennials and people aged 21-35 who are willing to find a date. But, is it suitable for sugar daddies? Maybe, but this is not the main age range.
OkCupid has always shown a lot of ads, which is one of the main reasons why its name sounds so familiar.
Up next, a review on some things about this OkCupid dating. Read on.
OkCupid Member Structure
It has over 50 million users worldwide.
Most users come from the United States.
Male members is more compared to female members.
Most members fall between the age limit of 25-34.
Members seek different types of relationships.
The first thing to say about OkCupid's member structure is its inclusivity to other genders that have recently inserted into the LGBTQ+ community.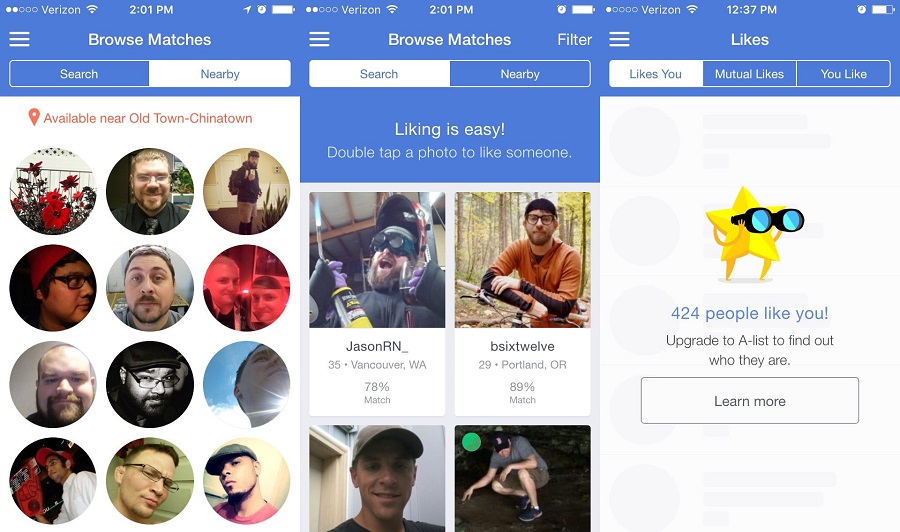 This means that in general, it is normal to see lots of gays, lesbians, trans, bisexuals and other 8 genders mingling freely.
Compared to other social networks for dating, OkCupid tries to do the best job possible to include the new genders that are being created and assimilated in the society.
So, it is a norm to find more people of the LGBTQ+ community here than anywhere else.
Demographically speaking, the majority of visitors come from the United States. The site gets roughly 1,000,000 logins per day, most of which are from this country.
OkCupid has around 50 million members and most of them are active.
The bummer may be that most of OkCupid members are males. Males are who send messages and encourage women to interact with them.
OkCupid is for young people, not older than 36, but that doesn't mean you will not find users surpassing that age. In some OkCupid dating site reviews, this is actually seen as an advantage.
Signing Up at OkCupid
The signup process on OkCupid is nothing out of the ordinary. The main page welcomes you with the name of the site, takes some time to load, but not as much as other sites.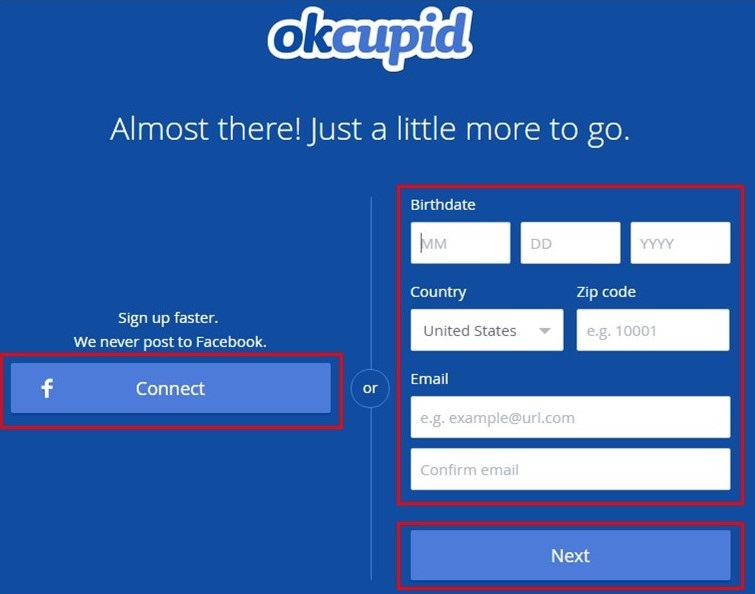 The button to sign up is on your left. Just click on it and start filling out what's required. If you prefer, get the app on your smartphone at once. The option to install it appears next to JOIN.
Once you click on join, the site asks you for a valid email address and a password. A 6-digit password can be suitable. Preferably mix letters with numbers.
The problem with this is that it is much easier to fake an account with an email rather than with a phone number. OkCupid should allow registering with the phone number for more security.
After that, submit your username, age, location, and gender. In the gender section, you have the option to select from 5 genders, which are gender –fluid, cis, Hijra, and two-spirit.
Making Contact on OkCupid
Basically, OkCupid is not so different from other swiping sites. Keep reading this review of OKCupid dating site to find out why.
When you register, it asks you to answer an amount of questions related to personality traits.
What the website does is to take that information and puts it through an algorithm that finds matches.
As a bonus, you have a search tool that allows searching for people according to your preferences. This same tool allows for saving these searches. If your match likes you, you are allowed to reply back.
Far back, OkCupid allowed sending private messages freely without limitation. The problem began when creeps are starting mass-messaging and frightening off women.
Now, it is possible to private message other users, but it requires them to like back first. This is how OkCupid smothers spammers.
On a side note, you can't send more than one message to other members. You have only one opportunity to receive a reply from the people you messaged first.
If they haven't liked you yet, you won't be able to view their profile either. This is possible when both users have liked each other, making the "Send message" option appear.
OkCupid Profile Quality
It was said that it was not possible to view full profiles of people who haven't liked us. OkCupid doesn't ask you for money for chatting, but you may need likes for interacting.
The downside of OkCupid profiles is that they are public, making it possible for other people you don't like to see your profile. This is a double-edged sword.
To make your profile 'pro', answer as many questions as possible. These questions increase your chances of finding somebody to chat to.
Your profile can then portray information related to your religion, favorite sports, politics, hobbies, drinking and smoking habits, and much more.
It's up to you to reveal as much information as you can to make your profile much deeper.
The other thing is that the more questions you answer, the more personality trait questions get unlocked. These personality questions prevent your profile from looking basic.
Since OkCupid has a lengthy questionnaire, it is not necessary to write a long About me paragraph. However, you must complete this since no space can be left empty.
OkCupid App
OkCupid is one of the few courting sites that can afford an app for IOS and Android. The app can be installed for free.
There are differences between the OkCupid app interface and the desktop look.
Overall, the OkCupid is much simpler and less wordy but requires performing actions that are unthinkable on the desktop form.
For example, you need to scroll down to view a full profile. If you need to go onto the next page, the page takes more time to load. If you want to pick another feature, you need to scroll down too.
Nevertheless, it is great since it is more ideal for people who are always on the go. The app interface displays the members and the option to swipe them.
If you swipe a lot of profiles, OkCupid sends you a notification urging to send private messages to them, but it is up to you to do this.
Some OkCupid reviews state that this feature is sometimes disturbing.
OkCupid Costs and Prices
This app is free, so you can join, swipe, and send messages without spending money; however, OkCupid has two other types of memberships that have more benefits.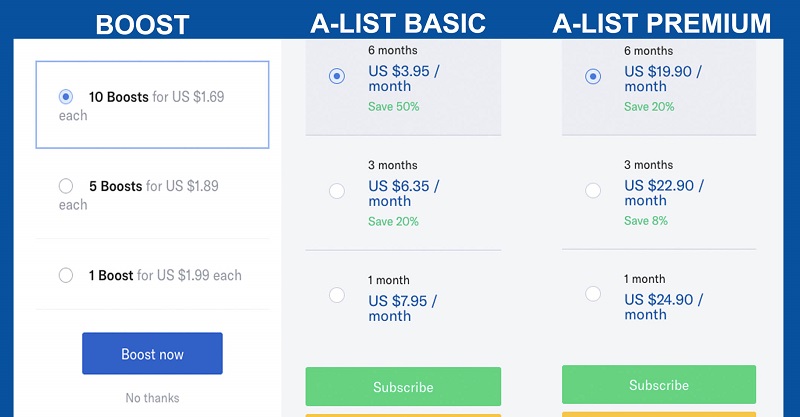 OkCupid has two lists that divide the memberships. The first one is the basic subscription, whose price ranges from $8 to $24 per month for a 6-month pack correspondingly.
The second list is a little more expensive as it charges you $24.90 for one month, $68.70 each month for a 3-month Gold membership, and $119.40/month for six months.
OkCupid makes revenue on ads. When you subscribe to any of the above memberships, you remove those ads, and you have the chance to see the people who like you before they do.
OkCupid gives a daily auto-boost and the opportunity to use advanced search filters. Additionally, all your messages you send will be read on priority.
In addition to that, you can classify your matches with the Stacks Premium feature. This is only if you consider that you have a large amount of matches you can't manage.
This is one of the features that people tend to extol the most in OkCupid. 
Special Features
The following are the best features according to. Let's see.
Double Take – Double Take is the typical feature of the OKC app. It showcases the profiles in roulette, and when you roll it, it shows you one match at a time.
See Who You Like – A feature that allows you to short-list the people you've liked, track them and message them whenever you want. See Who Likes You is a premium feature that allows you to see the users interested in you.
Boost – It's the typical feature that improves the visibility in the platform search, and Double Take suggestions. This is also a premium feature acquired with a basic membership.
OkCupid Blog – OkCupid has a blog with articles related to dating, love, relationships, tips, and more.
Stacks – As already mentioned in this OkCupid review, there are ads-on that make it unique, and 'Stacks' is one of them. This feature helps you organize matches when they are too many.  On the plus side, it also improves your compatibility in the 'Question Pros.'